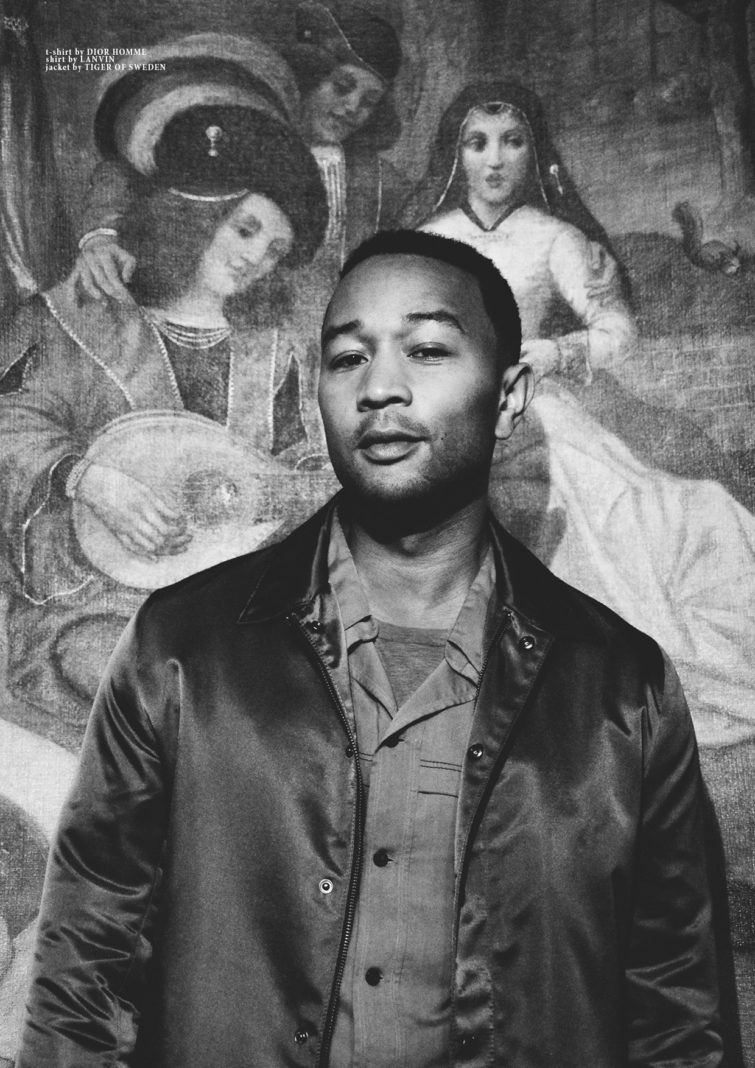 Interview: John Legend by Ian Cole for Client Magazine
Last year I had the pleasure of photographing musician and multi-Grammy winner, John Legend during his brief trip to London. This was for the cover story of CLIENT Magazine Issue #17 and I also interviewed Mr Legend for the edition. This is the first time the interview has been featured online.
1. Hi, John, it was a pleasure to meet and work with you. I know how precious time is, so I really appreciate that you gave up some of yours whilst you were in London. You're clearly a deep thinking man – amongst all the chaos of the industry and the public eye, what helps to centre you when you need it most?
It is a difficult business, but I've been able to stay relatively centred and grounded despite how crazy the industry can be.  I think it helped that I became famous in my mid-20's rather than as a teen.  I had graduated from university and worked a corporate job.  I had a good group of friends already and was used to taking care of myself.  And now, I'm married and have a daughter.  Having a family certainly helps keep me focused on what's important in life. 
2. You graduated from the University of Pennsylvania where you studied English and African-American literature. Many of the lyrics you've written are very poignant and flow very naturally with the music. Does songwriting satisfy your needs when it comes to the written word or are you/will you pursue further literary avenues in the future?
I enjoy writing prose as well.  Most of my prose has been in the form of essays advocating my political positions.  Perhaps I'll write a memoir when I get a little older as well.  Running my own TV/film production company (Get Lifted Film Co) also gives me the opportunity to work with great screenwriters and directors.  I get to amplify their storytelling and hopefully make some great content to inspire, entertain and educate people.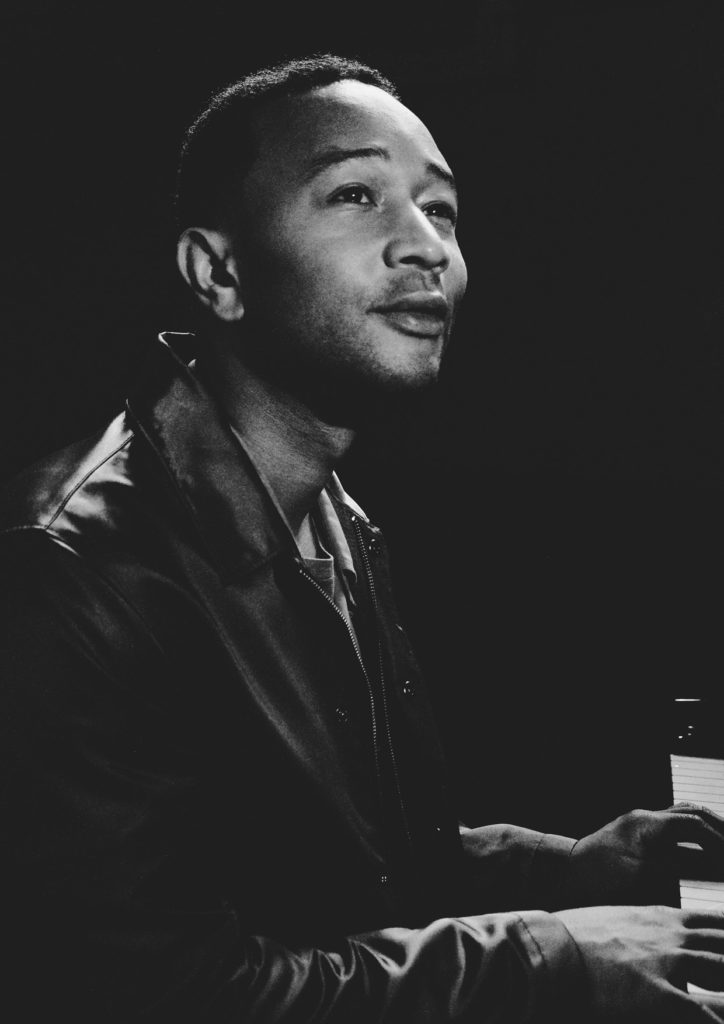 3. You're known for being outspoken, or shall we just call it being honest? Being direct can get you into a lot of trouble thanks to social media and you have a great deal of influence in the public eye – What really drives you to speak out and say NO, THIS IS WRONG!?
I've long been passionate about equality and social justice, as a citizen and as an artist.  I grew up reading about Martin Luther King and Frederick Douglass and Harriet Tubman.  They were my heroes as a kid and I always believed that living an important, impactful life meant standing up for justice and equal rights.  I'm privileged to have been given a platform, and I feel it's my responsibility to use it in a way that makes a positive difference. Nina Simone said "It's an artist's duty to reflect the times," and that's what I will continue to do, even if it costs me some support. I will always stand up for a more loving society and speak out against hate, intolerance and injustice.
4. You do a lot of charity work and in particular with a focus on education, but many people don't know that, as the mainstream press probably don't see it as a priority. You obviously feel that education is particularly important for young or underprivileged people?
My family didn't have a lot of money growing up, and I saw education as an opportunity to change my circumstances.  My parents didn't go to college, but they encouraged me to do so and they always stressed the importance of education. Sadly, a good education isn't easily accessible to all children in the US, or globally. Everyone doesn't have a level playing field. My team and I work to increase the dialogue around inequality in education and provide resources to improve the opportunities offered to young people who come from disadvantaged backgrounds. Also, disadvantages in education as early as elementary school have been proven to increase chances of incarceration later; in the US we've coined the unfortunate phrase "school-to-prison pipeline." In addition to our efforts in education, we've established the organization FREE AMERICA to focus on ending mass incarceration in the US through reform of the criminal justice system.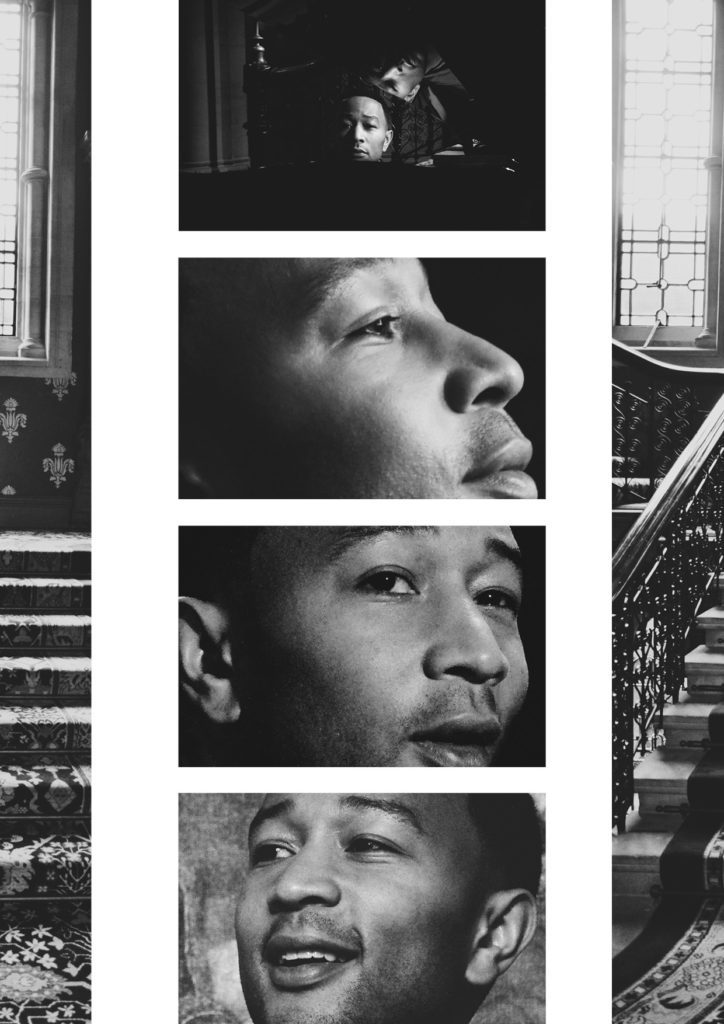 5. You have the most beautiful family, not just in image, but there is a great warmth and a spiritual beauty there. With your new album, Darkness and Light, I was immediately drawn to Right By You (for Luna). I listened to the album without looking at the titles (I tend to do that with new music), so it was a joy to discover that you wrote it for your daughter. Can you tell us a little about the meaning behind the song?
I actually wrote the song before Luna was born, when my wife Chrissy was still pregnant. It's about anticipating becoming a father and the uncertainty that comes with being a first-time parent; there are so many unknowns, and no amount of advice or books can truly prepare you. "Right By You" is about pondering what type of personality your child will have, how they'll choose to make their mark on the world.  I know that I can't protect her from all the pain and heartache she may feel.  But, as long as I'm here, I'll be there for her.
6. Talking about your latest album, where does the title Darkness and Light come from?
With this album, as with all my other albums, I decided on the title once I had a good idea which songs would be on the album and which lyrical themes were prevalent.  A lot of the songs are about finding hope, light and love that will overcome the darkness, fear, turmoil and uncertainty in the world and in our own personal relationships.  So Darkness & Light felt like a good title.  I also thought it would be an inspiring title for our visual team when it came to album design and art for the tour and marketing materials.  
Coincidentally, we also named our daughter Luna.  I didn't think about it at the time, but since Luna means moon, she's literally the light in the darkness.  AND, to make it even more interesting, the song playing when she was born was "Superfly" by Curtis Mayfield.  The opening line of that song is "Darkest of night, with the moon shining bright."  I didn't name her or the album with these connections in mind, but it was a really cool coincidence once I noticed the connection.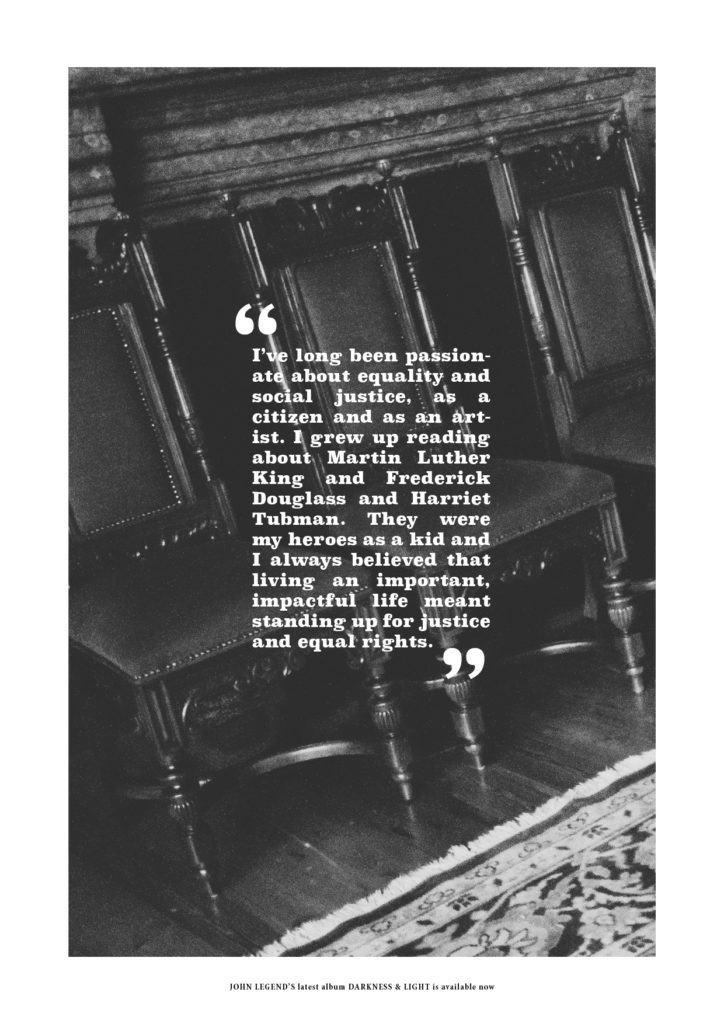 7. Apart from 'home', where in the world is your 2nd favourite place?
Lake Como in Italy is a pretty important place for me and my wife.  We fell in love there early in our relationship, 10 years ago.  We visited there many times over the years.  We got married there almost 4 years ago and shot the video for "All of Me" during that time as well.  It's so beautiful and romantic there.  We love it.
8. You told me that you started playing the piano at age 4, which is really impressive. It's always been my favourite instrument, and I've always been drawn to artists who play it a lot – Stevie Wonder, Rachelle Ferrell, Nina Simone and Elton John to name some of my favourites. Growing up, what were you listening to? 
I grew up with a pretty steady diet of gospel and R&B. There are several gospel musicians in my family, including my grandmother, who helped teach me to play the piano. My father listened to a lot of Motown, including the Temptations, Smokey Robinson and Stevie Wonder.  Stevie is not only my favourite artist of all time, but he has become a friend and mentor. In my teen years, I was listening to a range of things from classic soul to New Jack Swing to hip-hop to jazz.  I started to listen to Nina Simone a lot during that time and became a big fan of hers.  She's one of my favourite artists as well and a big influence.  I named my daughter Luna Simone as an homage to her.
9. Are there any current artists that really touch your soul, whether it be with vocals, production or their command of an instrument?
When it comes to current artists, lately I've been listening to Frank Ocean, Kendrick Lamar, Sampha, Rihanna, to name a few.  I still listen to a lot of old school as well.
10. Your Get Lifted Film Company has been involved in some very cool projects and I was intrigued to see that you worked with Damien Chazelle, who wrote and directed the awesome Whiplash movie. What attracted you to him?
I loved Whiplash and met with him as he was developing La La Land.  I knew from his previous work that he was a really talented director who had a great musical sensibility.  Making an original musical in Hollywood was an extremely challenging idea, but I had a feeling he would do a good job.  So when he offered me the chance to be involved in La La Land, I said yes.
11. What else can we expect from your film company in the future?
We just completed the second season of the tv series "Underground", which we're very proud of, and we were also executive producers of the Broadway revival of August Wilson's "Jitney", which just won a TONY, and we have more projects coming in film, television and theatre.  Our goal is to inspire, educate and entertain people.  I usually pick projects that align with my interests and passions (music, social justice, African-American history).  
12. Lastly, we can't let you go without mentioning your impromptu performance at St Pancras Station, which went viral and announced to the world that 'JOHN LEGEND WAS IN TOWN'. This got everybody talking, globally, in the most positive way, and with so much negative news around, it was a breath of fresh air, so thank you for that. It reminded people of your talents as singer, musician, performer, and Mr nice guy. Tell me how it felt to step off the Eurostar, sit at that piano and just SING to the unsuspecting British public?
It was so much fun! I don't do impromptu things like that often, but I loved seeing the genuine surprise on people's faces. It was a great way to let everyone know I was in town and also to announce that the tour is coming to the UK and Europe!  I'm looking forward to showing everyone what we've been working on.  I think it's the best tour of my career.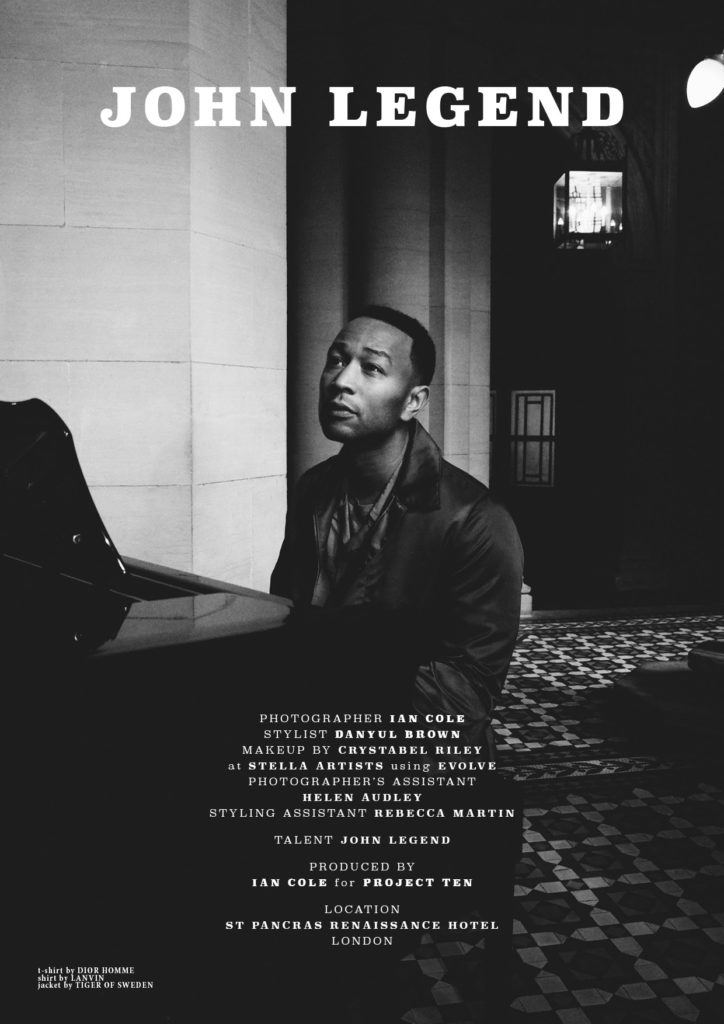 Location: St Pancras Renaissance Hotel, London
(C)Photography & interview by Ian Cole
Get a casebound hardback print edition of CLIENT #17 from £30.00
Download this issue for £3.99
See the full shoot HERE.
SaveSave
SaveSave
SaveSave
SaveSave
SaveSave
SaveSave
SaveSave
SaveSave
SaveSaveSaveSave
SaveSave